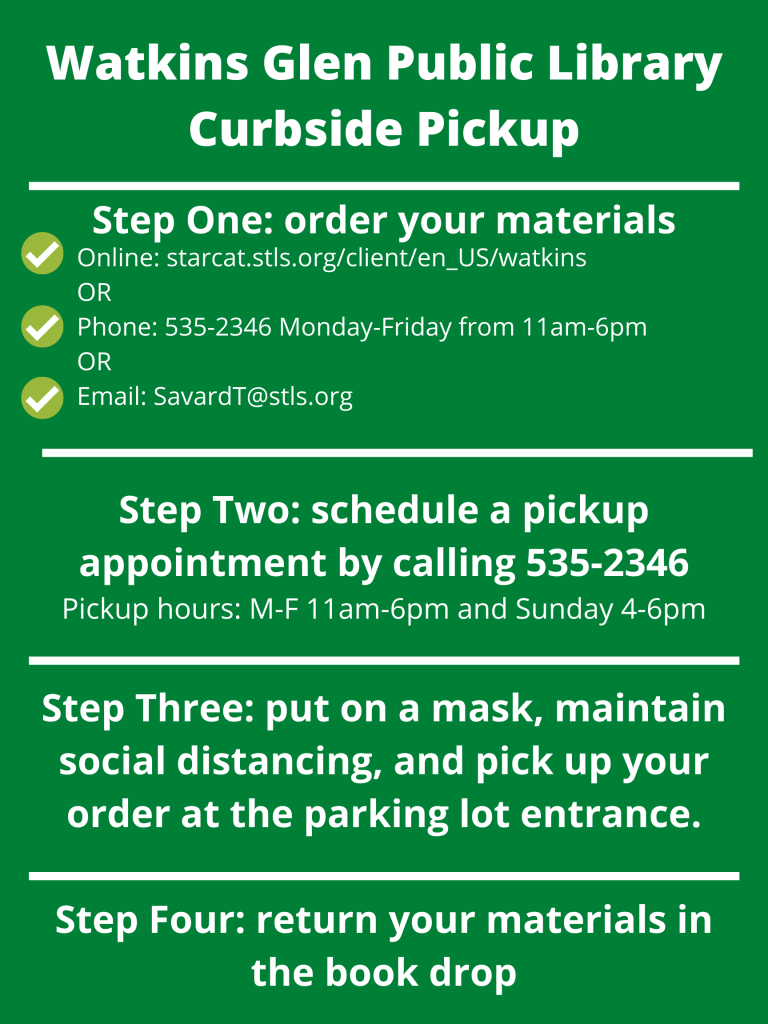 Dear Patrons,
We are delighted to announce the Watkins Glen Public Library will begin providing safe access to physical materials through curbside pickup services beginning July 1, 2020. Please see the instructions below to start placing your holds today!
You may place holds for materials from our library via STARCat (https://starcat.stls.org/client/en_US/watkins) or by phone (535-2346) or by emailing SavardT@stls.org. We will be available to answer calls Monday through Friday between 11am and 6pm.
To manage traffic and maintain proper social distancing, it is necessary to make an appointment to pick up your materials. Appointments are available every 15 minutes during open hours (Monday through Friday between 11am and 6pm and Sunday between 4pm and 6pm). If you place your holds through StarCAT, you will receive an email once your materials are ready; you must then call to make an appointment to pick up your materials (535-2346). 
At the time of your pickup appointment, a staff member will bring your materials outside the building inside a labeled paper bag and leave it on a table near the book drop for your retrieval. Please wear a face covering when retrieving your materials. The same circulation rules you are used to will still apply except for one significant change: we are now fine free! (but always happy to accept donations if your previous method of supporting your library included happily paying fines!)
When you're ready to return your materials, please leave all items inside the drop box located outside the library. If you are feeling ill, please hold onto your materials. The library is now fine free and you will not be penalized for missed due dates. All returned materials will be immediately quarantined for 96 hours, so don't worry if you see those materials listed as "overdue" in your account; this will not affect your ability to check out additional items.
While we are unable to provide the same services we did prior to our closure, we are overjoyed for this opportunity to provide for you safe access to our library materials once again. Please know we are taking every precaution to ensure the cleanliness of the building and materials for your continued enjoyment.
See you soon!
Watkins Glen Public Library staff