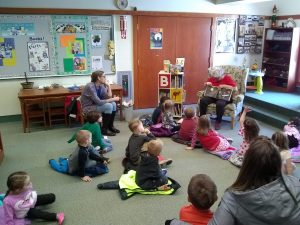 Join Ms. Alexandra and friends for a fun-filled storytime! Children and caregivers meet every Thursday morning at 11:00 and every Saturday morning at 10:00 during the summer for an hour of stories, parachute play, and art activities! This is a great time for parents to get to know one another in the community, and to help prepare young readers for school.
Everyone knows the importance of reading to children at home, but did you know that your child also benefits from attending group story times at our library?  These are just a few of the benefits:
Children watch others become engaged in a story and learn from each other.
They are exposed to a wide variety of authors and genres.
They learn vital school readiness skills – sitting still for a period of time, how to pay attention to an adult other than their parent or usual caregiver, how to be quiet, as well as how to take turns.
 Story times are also helpful to parents and caregivers.
Adults learn songs and rhymes to support their child's learning.
They learn fun, engaging, and educational ways of reading to a child.
It offers an opportunity to meet and connect with other parents and caregivers in the community. 
Attending a library story time ensures that a trip to the library will be fun and something to look forward to.  And while you're at the library, allow your child to check out some books to make the visit even more special!