Summer Learning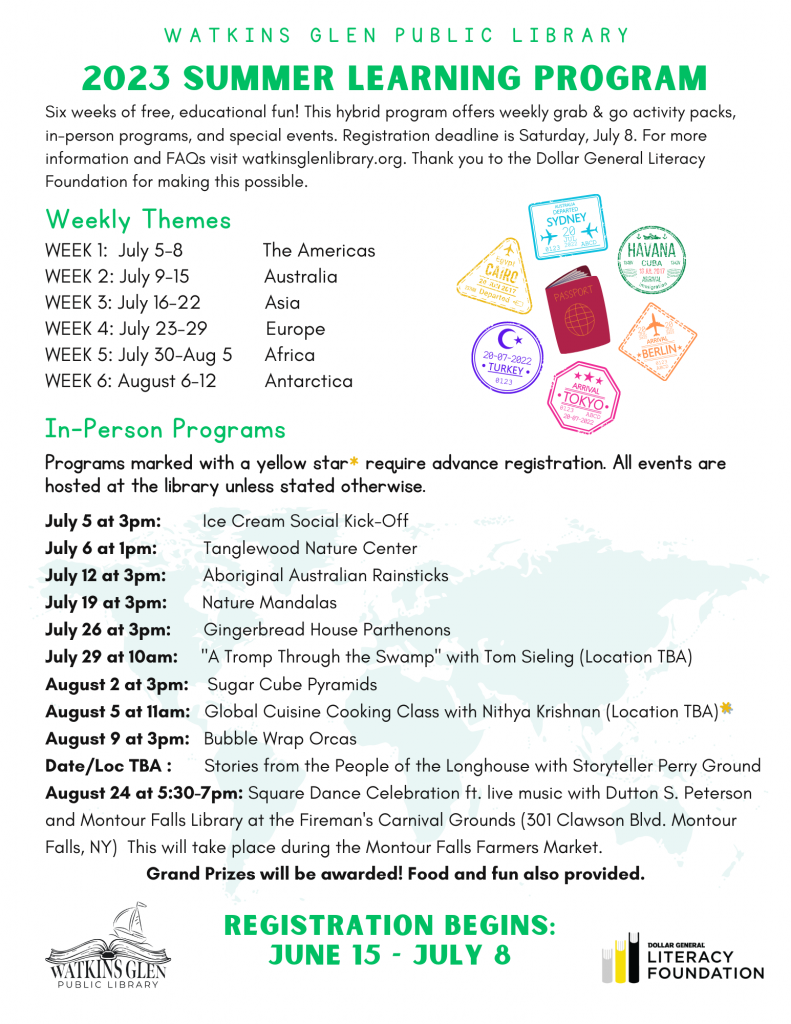 Program Lineup
Weekly Themes
WEEK 1: July 5-8 The Americas
WEEK 2: July 9-15 Australia
WEEK 3: July 16-22 Asia
WEEK 4: July 23-29 Europe
WEEK 5: July 30-Aug 5 Africa
WEEK 6: August 6-12 Antarctica

In-Person Programs – All programs take place at the library unless otherwise noted. Please check back for updates to locations for some of the larger events.

July 5 at 3pm: Ice Cream Social Kick-Off
July 6 at 1pm: Tanglewood Nature Center
July 12 at 3pm: Aboriginal Australian Rainsticks
July 19 at 3pm: Nature Mandalas
July 26 at 3pm: Gingerbread House Parthenons
July 29 at 10am: "A Tromp Through the Swamp" with Tom Sieling (Location TBA)
August 2 at 3pm: Sugar Cube Pyramids
August 5 at 11am: Global Cuisine Cooking Class with Nithya Krishnan (Location TBA)*
This program is for kids ages 8+ and requires advanced registration due to limited space.
August 9 at 3pm: Bubble Wrap Orcas
Date/Loc TBA : Stories from the People of the Longhouse with Storyteller Perry Ground
August 24 at 5:30-7pm: Square Dance Celebration ft. live music with Dutton S. Peterson and Montour Falls Library at the Fireman's Carnival Grounds (301 Clawson Blvd. Montour Falls, NY) This will take place during the Montour Falls Farmers Market. Lots of food, fun, and grand prizes awarded!
---
Registration is June 15 – July 8!
Students are not required to attend in-person programs or participate in the grab-and-go activities. The only requirement is that students track how many hours and total books they read between July 5 and August 12.
What counts? Books, audiobooks, and graphic novels all count towards your goal! For every hour of reading, students will receive a coin. Coins can be cashed in for prizes from the Summer Learning Marketplace.
Grab-&-Go Activity Packs will be available starting on Monday of each week until gone. These are available on a first-come, first-serve basis. You can pick up activity packs during open hours. Supplies may be limited.
Extra reading logs will be kept at the Summer Learning Station near the children's room.
The last day to turn in logs to library staff is Saturday, August 12. The top readers will be notified the following week.
Grand prizes and certificates will be awarded on Thursday, August 24 during the Square Dance Celebration at Montour Falls Farmers Market. The party will run from 5:30pm-7pm. Come hang out with all three libraries, listen to live music, and eat yummy food!
If you cannot attend, please make arrangements to pick up prizes and certificates during library open hours. All participants will receive a completion certificate at the end of the program.
How to Register
Registration for the Summer Learning Program will begin June 15 and close July 8.
Call the library during open hours (607) 535-2346.
Send us a Facebook Message that includes: First & Last Name of the student(s), age, contact phone number, and email address (optional).
Send us an email at wgldirector@stls.org that includes: First & Last Name of the student(s), age, contact phone number, and email address (optional).
Parents/guardians are required to fill out a consent form and return it to the library. This form includes emergency contact numbers, allergies, etc. A printable copy of this form can be found below.
Students can pick up their SLP folders starting July 1.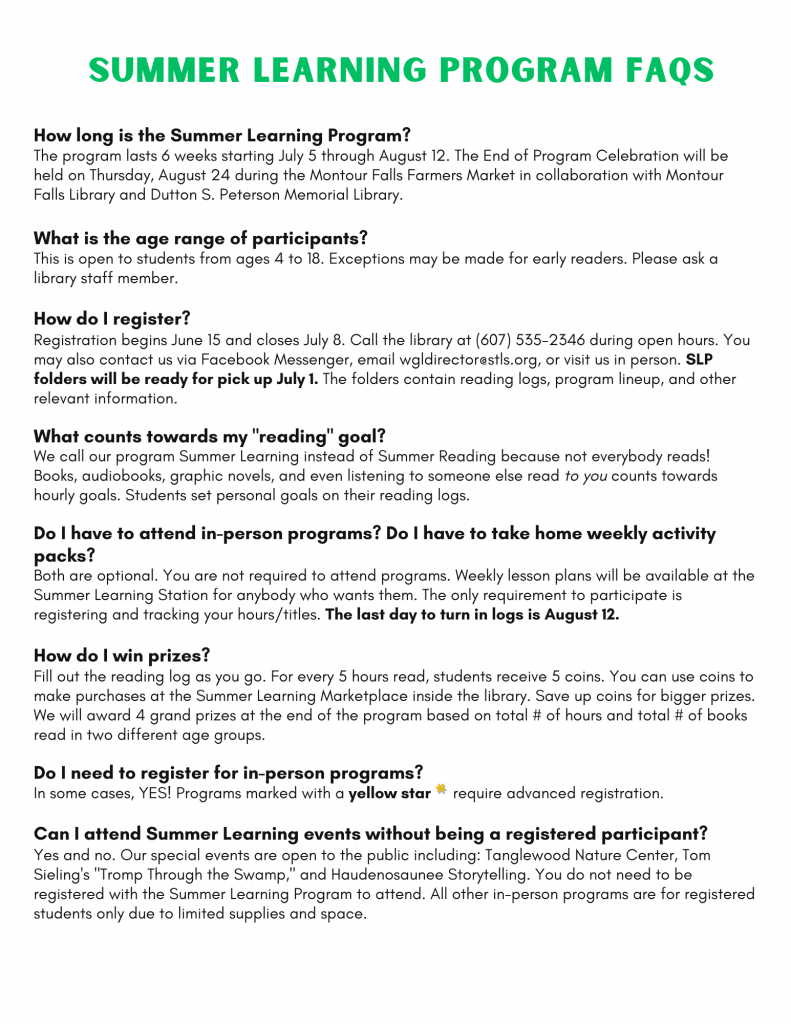 Reading Logs
Participation Consent Form